Antibodies
are important tools in many research and diagnostic applications.
Zedira
offers
antibodies
– polyclonal as well as monoclonal – raised against:
All human transglutaminases
Guinea pig liver transglutaminase
Bacterial transglutaminase
The transglutaminase reaction product: Nε-(γ-glutamyl)-L-lysine-isopeptide bond
Fibrinolytic enzymes: Plasmin and its zymogen (plasminogen)
Gliadin-variants
Antibody epitope mapping
PEPperPRINT
and Zedira commonly present the new PEPperCHIP
®
Transglutaminase Microarray!
Standard and Custom PEPperCHIP
®
Peptide Microarrays are synthesized with a unique laser printer based method directly on-chip and are used for e.g. antibody epitope mapping, immunological research, and biomarker discovery.
Read more about PEPperCHIP® Laser Printing Platform
Antibodies labeled with fluorescent dyes

Zedira provides many of it's polyclonal antibodies with a flourescent label like FITC or phycoerythrin or as a biotinylated version. Of course antibodies with other tags are available on demand.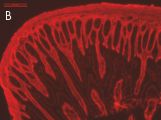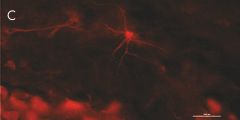 Indirect immuno-stainings
(A) Anti TG2 (
A014
): mouse colon section (1:100);
(B) Anti TG2 (
A014
): mouse small intestinal mucosa;
(C) Anti-TG6 (A017): astrocyte in mouse corpus callosum.
(A/B) J. Knauer, Fraunhofer Gesellschaft Leipzig; (C) A. Schulze-Krebs, S. v. Hörsten, University Erlangen
In many applications the need for a fluorescently labeled antibody exists, ranging from fluorescence microscopy to fluorescence-activated cell sorting (FACS).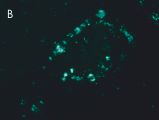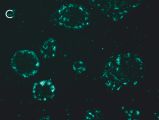 Direct Immuno-Stainings
(A) Transmitted light microscopy, magnification 1:40;
(B) FITC-Anti-TG2 (
A028
): fluorescence microscopy, magnification 1:40;
(C) FITC-Anti-TG2 (
A028
): fluorescence microscopy, magnification 1:20.
(A-C) W. Dieterich, University Erlangen-Nürnberg
Change Notification for Monoclonal Antibodies:
Antibody formulation is changed to formulation containing 50% glycerol (
Change notification antibody formulation.pdf
)