Zedira designed peptidomimetic blockers bearing a michael acceptor pharmacophore.
The electrophilic α,β-unsaturated carbonyl compounds are attacked by the active site cysteine residue (1) to form an irreversible complex (2,3).

The peptidic lead compound Z013 (ZED754) was used to cocrystallize with tissue transglutaminase. The picture shows the binding mode to the active site. The scaffold was subsequently optimized using medicinal chemistry.
Our clinical candidate ZED1227 is the first TG inhibitor in the clinics.
Compound ZED1301 (
A108
) is a potent FXIII inhibitor.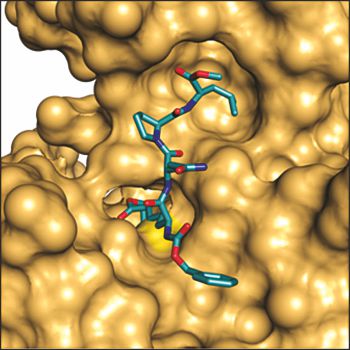 Structure of inhibited tissue transglutaminase.
The inhibitor (shown in cyan) is covalently bound by a Michael addition reaction to the active site Cys 277 (yellow surface), which is located in the catalytic tunnel. It mimics the peptide substrates. The main part of the inhibitor fits onto the protein surface, forming several hydrogen bonds and stabilizing the open conformation
(Lindemann et al., XX Int. Med.Chem. Symp. 2008).