Transglutaminase-Newsletter | July 2017



ZediXclusive TG6-ab ELISA kits E103 and E104:
Revised versions of ELISA kits E003 and E004.
Improvements:
Background subtraction not necessary anymore.
Therefore, now you can measure up to 40 sera in duplicates with one kit (96 wells).
The calibrators are adapted, so that the more relevant lower titers are covered.
Titers (U/mL) obtained by the new E103/E104 kits can be translated to titers of old kit versions E003/E004 and vice versa!
Cutoffs are redefined based on a sera collective of 86 patients with various neurological disorders, and 38 blood donors, equally distributed by sex and age.
Read more!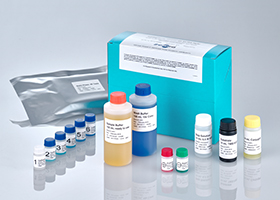 Get your serum sample measured for TG6 autoantibodies!
In co-operation with the medical laboratory of Prof. Dr. med. M. Kramer (board-certified clinical pathologist) in Heidelberg, Germany we provide testing services for the determination of Transglutaminase auto-antibodies in patient serum samples.
Link to Order Sheet (English)

Link to Order Sheet (German)