Factor XIII
Human blood coagulation Factor XIII B subunit
(hFXIII B, recombinantly produced in insect cells)
Synonym
Recombinant Fibrin stabilizing factor B subunit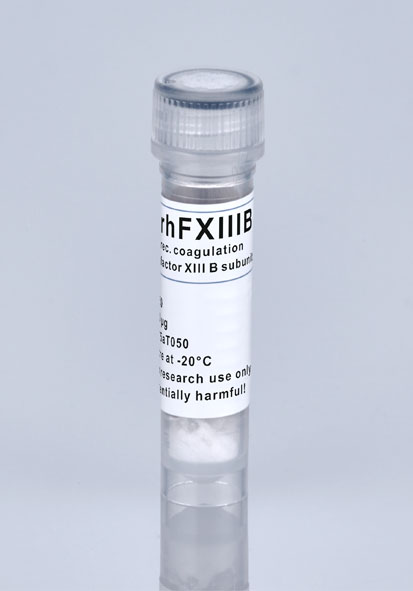 Molecular Weight
80 kDa (monomer)
Source
Recombinantly produced in insect cells
Purity
> 95% [by SDS-PAGE]
Appearance
White lyophilized solid.
Description
Recombinant human Factor XIII B subunit is a carrier protein for blood coagulation Factor XIII A subunit. Factor XIII B subunit is a typical mosaic protein and consists of 10 tandem repeats, called "sushi"-domains. Its function is to protect Factor XIII A subunit from slow spontaneous activation and clearance.
Reagents
The recombinant human Factor XIII B subunit is lyophilized from 20 mM Tris-HCl pH 6.8, 150 mM NaCl, 1 mM EDTA.
Reconstitution
Add the volume of H2O the protein is lyophilized from (see Certificate of Analysis) to the vial of lyophilized powder. Rotate vial gently until solid dissolves. After reconstitution the solution should be stored frozen in working aliquots. Keep cooled on ice for short term storage.
Application
Factor XIII B subunit is a carrier protein. The recombinantly expressed protein is able to form a heterotetrameric complex with recombinant Factor XIII A from human, as well as the analogous proteins from pig, dog, mouse, and rat as shown by native PAGE below (Heil et al., 2013). Accordingly, the protein may be used for biochemical studies understanding the physiological function of FXIII, for example determination of the binding constant between Factor XIII A and B subunit (Katona et al., 2014).
Storage
Storage for several months is possible at > - 20°C.
Delivery is possible at ambient temperature
Reference(s)
Böhm et al., J. Med. Chem. 2014, 57:10355-65
Heil et al., Thromb. Res., 2013, 131, e214–e22
Katona et al., Blood, 2014, 123, 1757-63
Note
INTENDED FOR RESEARCH USE ONLY, NOT FOR USE IN HUMAN, THERAPEUTIC OR DIAGNOSTIC APPLICATIONS.