Transglutaminase 6
Human neuronal transglutaminase
(TG6, recombinantly produced in insect cells)
Synonym
Neuronal Transglutaminase, TGy, TG6, TGase 6, protein-glutamine-γ-glutamyltransferase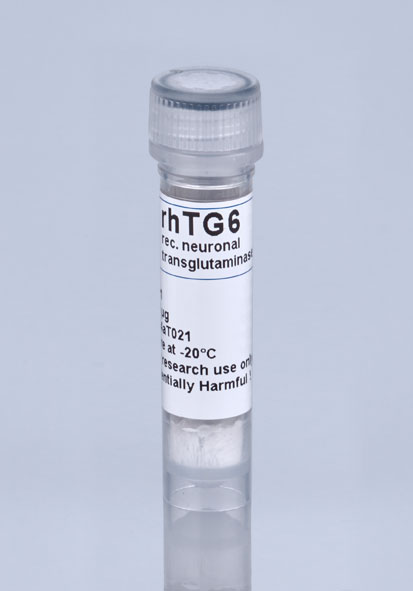 Source
Recombinantly produced in insect cells
Purity
> 95% [SDS-PAGE and Coomassie staining]
Activation
His6-rhTG6 is a Ca2+-dependent enzyme.
Appearance
White lyophilized solid.
Reagents
The Transglutaminase is lyophilized from 10 mM Tris-HCl pH 8.2, 500 mM NaCl, 2 mM DTT. Sample contains sucrose.
Reconstitution
Add the volume of water specified in the certificate of analysis under aliquotation to the vial of lyophilized powder. Rotate vial gently until solid dissolves. After reconstitution the solution should be stored frozen in working aliquots. For short term storage keep cooled on ice.
Application
His6-rhTG6 catalyzes acyl transfer reactions from glutamine residues in proteins or peptides to primary amines, e. g. the formation of ε-(γ-glutamyl) lysine bonds between proteins by transferring the acyl group of a peptide-bound glutamine residue to the primary amino group of a peptide-bound lysine residue.
Storage
T021 is stable for at least one year if stored at ≤ -20°C.
Avoid freeze-thaw cycles.
Reference(s)
Fukui et al., FEBS J. 2013, 280:1420-9
Schaertl et al., J. Biomol. Screen. 2010, 15:478-87
Note
Intended for research use only, not for use in human, therapeutic or diagnostic applications.