26. August 2019
New automated FXIII activity assay


Transglutaminase-Newsletter | August 2019



Paving the way to a new automated FXIII activity assay!


Just recently, Technoclone (Vienna, Austria) and Zedira presented a joint poster at the 27th ISTH Congress in Melbourne, Australia. The scientists involved, Martina Leiter, Ralf Pasternack, Christian Büchold, and Nikolaus Binder concluded:
"The fully automated TECHNOFLUOR FXIII Activity assay run on the new Ceveron s100 haemostasis analyzer is an appropriate method for fast and accurate determination of this critical factor in the stabilization of blood clots. With a high degree of linearity over a wide assay range, this new assay shows excellent recovery of EQA samples, demonstrating high agreement with other FXIII activity assays on the market."
In this context, please find below our reagents targeting FXIII (F13, plasma transglutaminase) flanked by selected coagulation products:
Selection of Factor XIII products

Assays

Inhibitors

Special product

FXIII

New!

Antibodies

Drug Discovery at Zedira targeting FXIIIa

Zedira developed direct-acting FXIIIa blockers for safe anticoagulation. This unique and promising approach has the potential of a significant reduction in the life-threatening tendency to bleeding as provoked by current drugs. Zedira scientists used structure-assisted drug design to develop potent and selective compounds while deciphering the structure of active coagulation factor XIII.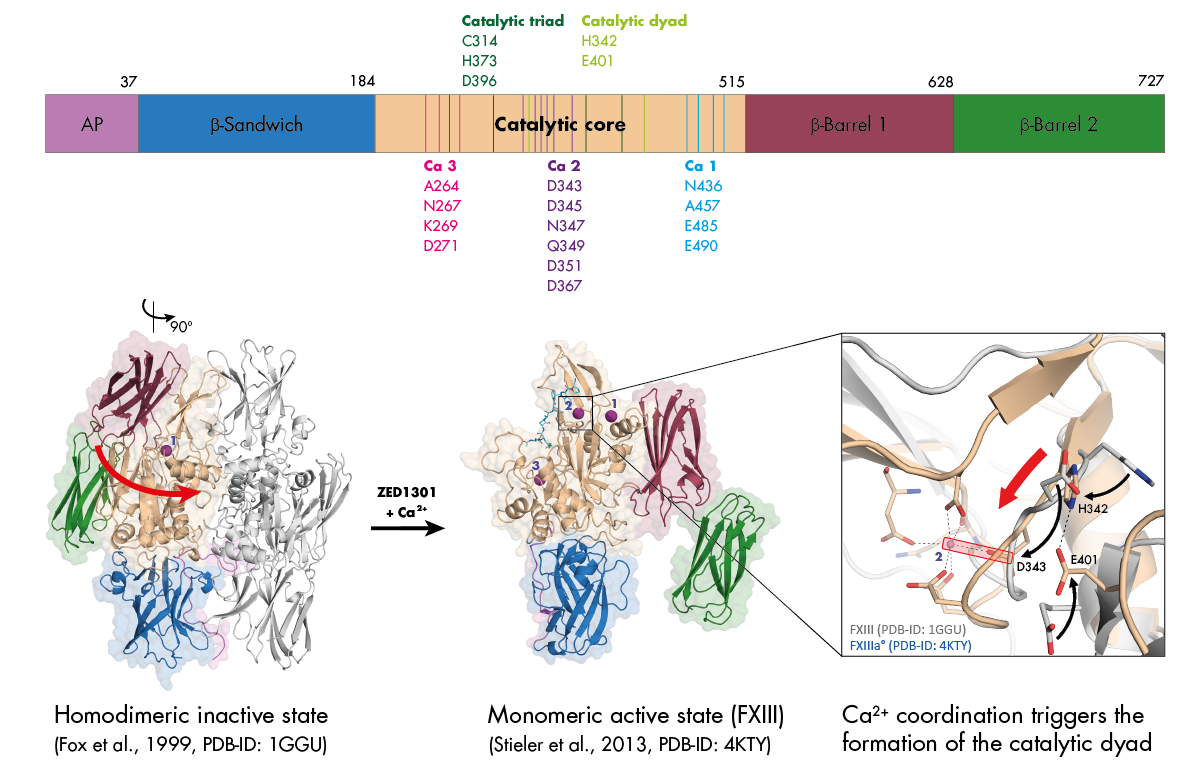 Structure of Active Coagulation Factor XIII
In the inactive state, recombinant FXIII exists as a dimer. Upon binding of the irreversible acting blocker ZED1301 (A108) and three calcium ions per subunit, FXIII dissociates and the ß-barrel 1 and ß-barrel 2 domains undergo a remarkable shift exposing the active site (upper left). The crystal structure of FXIII in its active conformation provides detailed information on an atomic level regarding the role of calcium in the activation process. Calcium coordination affects the shape of the active site of FXIII and triggers the formation of the catalytic dyad (H342, E401).
© ZEDIRA GmbH, Darmstadt, Germany